Rev. Daniel Headrick, Associate Pastor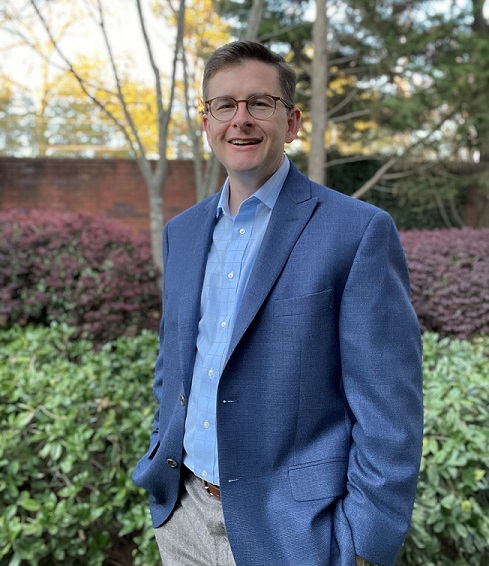 About Me: I was called as the Associate Pastor of Northside Drive Baptist Church in May, 2017 following graduation from Baylor's George W. Truett Theological Seminary. I am married to the love of my life, Jenney, who is an internal medicine physician. We have two wonderful children: Mary Frances (13) and Joseph (10). Born and raised in Tennessee, I attended the University of Tennessee, Knoxville for undergraduate and graduate school. Prior to entering the ministry, I practiced law in Tennessee and Texas representing clients in product liability and tort litigation matters.
I am passionate about proclaiming the gospel of Jesus Christ in the complexity of our 21st century secularized world. How do Christians follow Jesus faithfully in this time and in this place? How do we cultivate a deeper spiritual relationship with God? What does it mean to be a Baptist in our changing world? These questions motivate and inspire me.
I love spending time with my family, cooking while listening to jazz, and discovering joy. Reading and learning about the deep journeys of spiritual formation through books, movies, music, and conversations is life giving. Interfaith relationships and dialogue have a special place in my heart. I also have an abiding love for adoption, and when I practiced law in Tennessee I regularly represented families seeking to adopt children pro bono . While in seminary, I was called as the Senior Pastor of Willow Grove Baptist Church and received a Texas law license in order to become "of counsel" with my former law practice. In 2018, I became a Fellow with the Baptist Joint Committee for Religious Liberty.
Books and authors I like to read: Thomas Merton (Seven Storey Mountain), Stanley Hauerwas, Walter Brueggemann (Finally Comes the Poet), John Howard Yoder (The Politics of Jesus), Dietrich Bonhoeffer (The Cost of Discipleship). In theology, I'm reading Fleming Rutledge's The Crucifixion: Understanding the Death of Jesus Christ and Dallas Willard's The Great Omission. Curtis Freeman's Contesting Catholicity: Theology for Other Baptists is a book I would like to return to again and again in my ministry. I love the novels of Hilary Mantel and Marilynne Robinson.
Writings and Publications
I write for The Christian Citizen.

I am currently writing a Bible study and ethics curriculum for middle schoolers for use in Sunday School. It is called "A Baptist Catechism."
Education
George W. Truett Theological Seminary, Baylor University
Master of Divinity (M.Div.), 2017
Accepted as a Fellow of the 2016 seminary class of the Fellowships at Auschwitz for the Study of Professional Ethics.
The University of Tennessee College of Law, 2004-2007
Juris Doctor, (J.D.), 2007.

The University of Tennessee, Knoxville, 2000-2003
Master of Arts in Philosophy, (M.A.), 2003 (Religious Studies concentration).
Thesis: Persuasive Rhetoric in Origen's Contra Celsum.
The University of Tennessee, Knoxville, 1996-2000
Bachelor of Arts in Religious Studies, (B.A.), 2000.
Experience
Willow Grove Baptist Church (Moody, Texas) Senior Pastor, 2015-2016; Seventh and James Baptist Church, (Waco, Texas) Teacher of College Class; Baylor Scott & White's Hillcrest Medical Center (Waco, Texas) Clinical Pastoral Education Intern for Spring 2017; First Baptist Church, Knoxville (Tennessee) Lay leader and teacher of College Class. Baptized and ordained as a deacon here; Paine Bickers, LLP. (Knoxville, Tennessee) Attorney, September 2007-June 2014. Of Counsel, October 2015-June 2017. Currently licensed in Tennessee, inactive status in Texas.