Church School begins each Sunday at 9:30 AM.
Adult Church School classes provide different learning opportunities for all ages of adults to strengthen their Christian pilgrimage. We offer a variety of classes, some age-oriented, some topic-oriented, with emphasis on Bible study, seminars and lively discussion. We encourage everyone to visit several different classes to find the right "fit" and to participate in any class offered that is of interest. Special seminars and classes are offered several times a year as well. There is a place for everyone to learn and grow in their relationship to God in Christ. Come join us!

click here for CHURCH SCHOOL BROCHURE 2018-2019

---
Church School Class Options for Adults
Allen-Davis Class (Room 203)
Our format is simple and delightfully scattered: We talk about anything we want to talk about, with as much participation as is possible. We talk about esoteric religious topics, new findings in biblical archaeology, old findings in Biblical archaeology, the art of pile-driving, books that were left out of the Bible, theoretical physics, Biblical modifications and translations of the Greek, geology, art, Old Atlanta, and absolutely anything else. Please join us, and bring your stories, your questions, your interests, and your controversies.
Teacher: Dr. Jim Mahaffey
Art & Soul Class (Room 202)
This class of mixed ages and stages emphasizes Bible study through a variety of resources. On September 17, the class will have a summary conversation around the Islamic studies of this year's summer school. Then on September 24, the class will begin a study of Hebrews. In October, Corbin Boekhaus will lead the class in a study of the Reformation (this is the 500th anniversary) and Jordan Clark will give a presentation on art related to the Reformation. Early in January 2018, the class will begin a study based on the role of water in the stories of the scriptures.

Teachers: Rotating Teachers
Community: A Place to Connect (Room 201)
This Young Adult class asks how we, as Christians, live in the modern world? How do we, as a church, respond to current events happening in our surrounding community? Although there are many possible answers to these questions, this young adult community seeks to engage in conversation about being a Christian in the modern world. We live in a society where news is at our fingertips, but we don't always have a place to process events. Join us on Sunday mornings to process current events as they relate to scripture and our call to live out our faith in our daily lives.
Teachers: Ministry staff and Rotating Teachers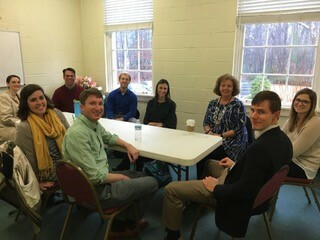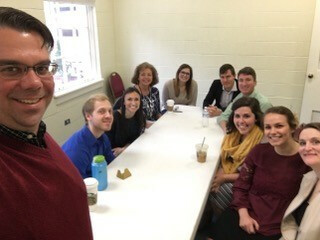 Friendship Class: (Room 205)
We will continue the study of the Gospel of Luke, beginning with Chapter 11. Our first class will begin with the celebration of the Eucharist, followed by sharing our experiences of the summer and our thoughts. All are welcome.

Teacher: Mary Ann Hickman
__________
Tired Parents Class (Room 207)
While open to all, this community consists mainly of tired parents who long for an hour of adult conversation about how to live out their faith as a partner, parent, and progressive Baptist in a busy and changing world. This year we ponder many questions. How do we interpret the Bible and live with integrity in the context of today's challenges? Who is Jesus? What is interfaith dialogue? How do we talk with each other about the hard issues? How can we better understand ourselves for growth in relationships and faith? How do we discover rest?
Teachers: Tim Getsay, David Bell, & Corbin Boekhaus