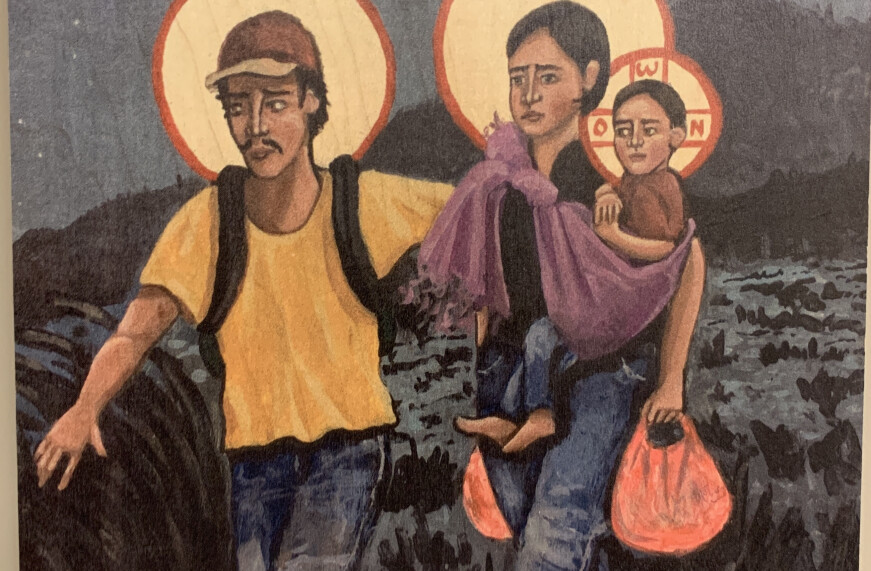 Image: This is a photograph of a wooden icon hanging in my office, painted by iconographer Kelly Latimore called Refugees: La Sagrada Familia.
He has filled the hungry with good things, and sent the rich away empty. Luke 1:53
At this time of the year, Mary's song is always close to our lips. The Magnificat, from the Latin for "to magnify" is the canticle sung by Mary, the mother of Jesus in the Gospel of Luke. It is one of the most subversive pieces of poetic theology ever sung.

I have to confess that these prophetic words from the Magnificat hit a little too close to home. I have never experienced hunger in the sense that Mary must have meant it. The kind of gnawing, psychologically tortuous, and constant hunger that those who have inadequate supplies of food or have faced famine know all too well. No, I have always been well fed. Overfed actually. And especially around the Christmas season, this has been true.
Soon it will be Christmas, which has long enchanted me. It was a time of great familial closeness in my childhood. We would have a meal with the extended family. There would usually be a gift exchange and the children would have some kind of skit or musical number for the adults. I was the "baby" of the family so I was usually given the smallest role. I think there was always a bit of cringing when the show started because you never know what a child might say.
And of course there was food, more food than should have been served. Christmas ham and a million side dishes. Each family had their canonical side dishes and desserts. You had to be seen eating a bit of everything for the common good. "Son, go back in there and eat some more," my MaMa would say. She would not rest until we had all eaten four times the recommended daily caloric intake.
What a contrast my gorging on pumpkin rolls and Christmas ham is with the poetic imagery of Mary's song. Mary sings of the present social order being turned upside down. The hungry are filled with "good things" and "sent the rich away empty." Think about that for a moment. Imagine what the world would be like if that began to be experienced.
More likely than not the mother of Jesus was dirt poor and a teenager. Perhaps as young as 13 or 14. Mary. Hers was a teenage pregnancy out of wedlock. Her pregnancy began during the betrothal period with Joseph. Her groom to be could have divorced her under Jewish law.
There is nothing in the Gospel accounts to indicate that Jesus' parents were people of means. No doubt they struggled with hunger, with making ends meet. So Mary knew a thing or two about the desire to fill the hungry with "good things."
Worldwide there are still famines and here, in the richest country in the world, 1 in 6 children go hungry each night. Perhaps you saw the shocking photograph of the starving child Amal Hussain, whose emaciated body appeared in the New York Times recently. Little Amal is one of 1.8 million children starving because of the brutal civil war in Yemen.
For Amal, and for the 1.8 million innocent children of Yemen, Christe Eleison, Kyrie Eleison. May we do the little we can in our own community to fight for food justice. May we do all we can in our world to end war.
The power of the icon shown above is that the image incarnates the story of Mary, Joseph, and baby Jesus within the marginalized and oppressed peoples of the world. Daily we see images of people desperate to find refuge from terror and violence. But in this country, many would like to construct a giant wall to keep people out. If we cannot see the image of God in those who are seeking refuge, we might just re-read Mary's song in Luke 1:46-56. Who are we in this song?
Mary's song becomes more and more prophetic and relevant every year. Christmas is almost here. Let's live out Mary's song this year.