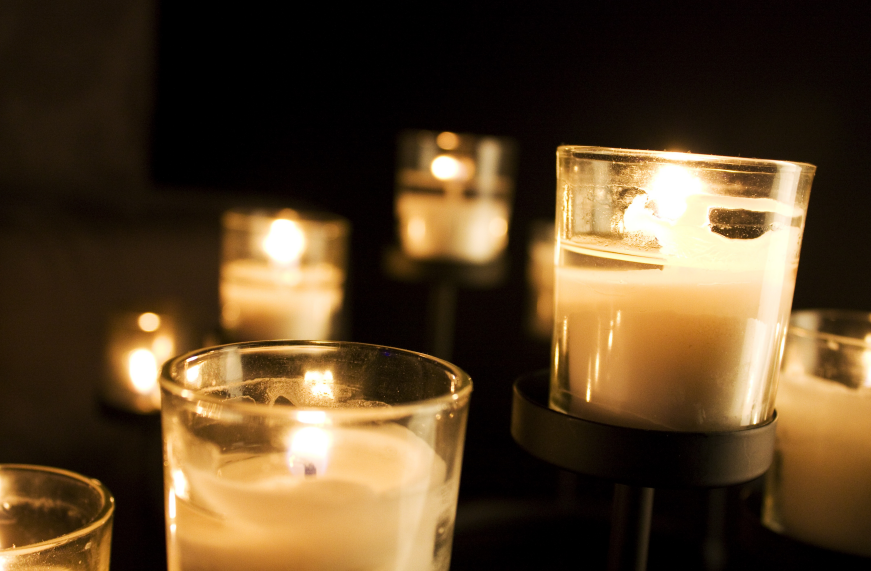 Fleming Rutledge, in her marvelous introduction to a series of Advent sermons she's preached over the years (Advent: The Once and Future Coming of Jesus Christ), tells us something quite revealing. Most of us familiar with the rhythms of Advent know the themes of the candles we light on the Advent wreath for the four Sundays are...Hope...Peace...Joy...and Love.
However, in the Middle Ages, Rutledge tells us, the themes were "death, judgment, heaven, and hell--in that order!" (Advent, p. 23).
That seems a far cry from the more Hallmark friendly themes of hope, peace, joy, and love...but hey: it was the Middle Ages after all. We're talking about a society that was much closer to death and judgment than ours pretends to be. We are no less immune to death; we've just created through technology and scientific advancements countless ways of postponing and lessening death's sting. They didn't have the CDC in the 14th century.
But I for one am glad our theme is not death. We live in a death saturated culture, so it is fitting that this coming Sunday, December 9, we'll light the candle of peace.
And in a culture dominated by gun violence, that's a very counter-cultural act. In a society in which we've been at war with something called "terrorism" since September 11, 2001, lighting a candle of peace is downright subversive.
If we are to truly light this candle and embrace its symbolism, direction, and meaning, we should be open to the possibility that God will change our entire life.
Jesus says pronounced peace again and again in his ministry. The Sermon on the Mount says "Blessed are the peacemakers, for they will be called children of God." (Matt. 5:9). Contrast that with our secular beatitude: "Blessed are the gun-dealers!"
Jesus taught that there was a deeper spiritual meaning to Torah than the literal words would imply. The Sixth Commandment ("Thou shalt not kill") was the floor for ethical responsibility according to Jesus. Those called to live in God's reign should see that the mere attitude of anger towards a brother or sister would make them "liable to judgment" (Matthew 5:21).
Peace, as taught by Jesus, is not simply the avoidance of killing. Peace is an entire way of life; an entire spiritual transformation in our hearts; an entire change in our very being.
Jesus taught that the law of Lex talionis which said "an eye for an eye and a tooth for a tooth" was no longer governing for those living under God's reign. "If anyone strikes you on the right cheek, turn the other also." Jesus taught "turn the other cheek" but society teaches "Stand Your Ground!"
Peace begins in our heart, transforming our spirit of anger (which arises from our ego) against our neighbor into love of neighbor and love of enemy. Peace is a profound spiritual way of life, not merely assent to an attitude or a belief (like "Just War Theory").
But peace, if it is to be truly transformative, must have real world consequences for Christian ethical practice. In other words, it is not simply good feelings we carry in our hearts concerning our neighbor. Peace is fidelity to the Cross-bearing Jesus, who instead of calling down twelve legions of angels when he could have wiped out the Romans who were about to execute him, consented to dying on a cross.
Peace means that our idolatrous obsession with the Second Amendment and the culture of the gun must yield to fidelity to the Prince of Peace, Jesus.
Peace means that our anger towards neighbor which threatens to consume must be transformed by the Holy Spirit into love.
Advent is no Hallmark card set of platitudes, after all. It is downright subversive of the dominant culture. Would we expect anything else from the God who became flesh in Jesus of Nazareth?