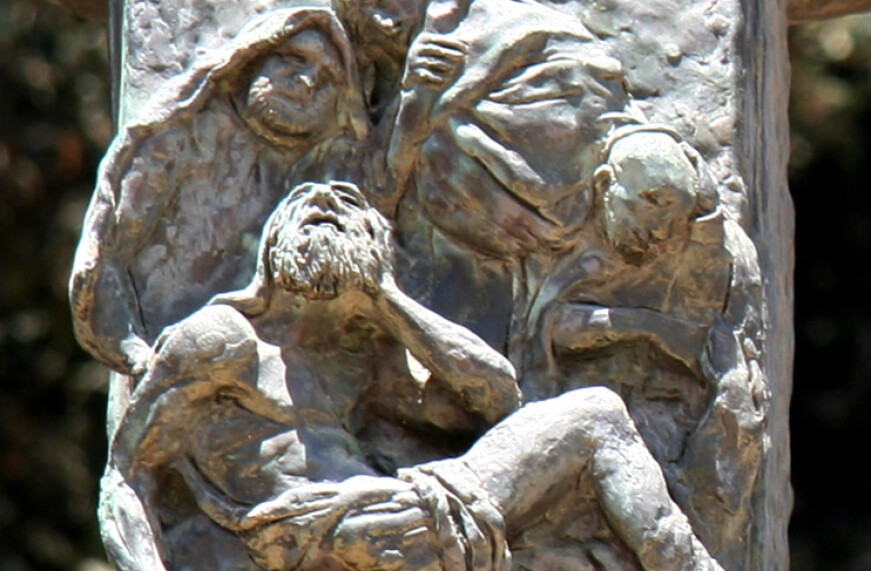 Image attribution: By Tamar HaYardeni - Own work by the original uploader, Attribution, https://commons.wikimedia.org/w/index.php?curid=62597278
In the play Death of a Salesman, the main character Willy Loman is having an existential crisis. He is struggling with his own purpose and self-identity. Faced with the prospect of losing his job and the respect of his two sons, he is struggling to stay afloat. To my ear, one of the most powerful parts of the play is when Willy's wife Linda defends him to their son. Linda passionately says,
Willy Loman never made a lot of money. His name was never in the paper. He's not the finest character that ever lived. But he's a human being, and a terrible thing is happening to him. So attention must be paid. He's not to be allowed to fall into his grave like an old dog. Attention, attention must be finally paid to such a person.
Attention must be paid. That is the quintessential human request, is it not, of the divine encounter? The story of Job, which the Lectionary treats sporadically this time of year, is about a man who experiences great suffering and pain. He is left to ponder why. He has to endure his so-called friends who unleash a barrage of bad theology and platitudes. They are often maligned for the unhelpfulness of their words. And it is true that a poorly timed word can be more destructive than silent "being with."
But they do at least pay attention to this man in his profound suffering. One wonders what happens to Job's wife in this…if any attention was paid to her?
And then in chapter 38, God shows up "out of the whirlwind." For years I heard these words as those of a bully. Job is shouted down. "Where were you?" God asks in a series of rhetorical questions meant to remind Job that God is God, and Job is Job.
But I can't help but wonder if there is another way to hear these words from God, prompted by Job's speech. And it is in the more robust sense that the Jews call chutzpah. It is in the boldness of Abraham bargaining for the lives of Sodom. Those who dare to believe that the prospect of suffering is a proper subject for vigorous interrogation of God may very well receive an answer out of the whirlwind. Or they might receive a "thick silence" as 1 Kings 19 metaphorically describes.
But the God of the Bible who descends from the whirlwind to engage the human existential dilemma is one who is not aloof and distant. God is not the Deist's clockmaker, setting the Earth into motion, then retiring into eternal self-reflection while the Earth burns below. No, this God is one who recognizes that humans in their finitude who cry out to God are created in God's own image, and therefore the objects of love and creative fidelity.
God's loving pursuit of human redemption emerges as attention being paid to the human being—as Linda Loman said—"attention must be finally paid to such a person." It may not be the experience we'd crafted in our minds when we imagined God would emerge out of the whirlwind. But why should it be? After all, God is God and we are not.