Approaching All Saints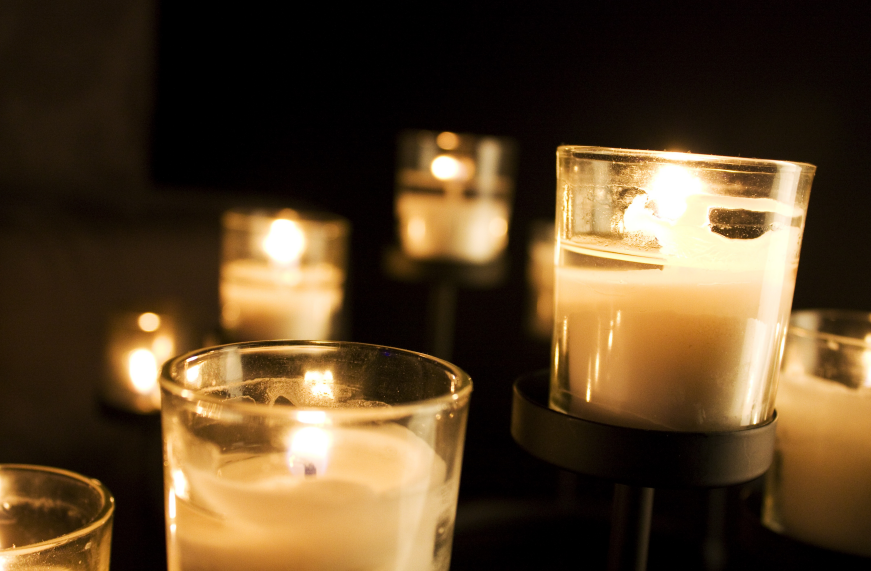 During worship this coming Sunday (November 1, 2019), we'll be calling out the names of five Northside Drivers who died since All Saints' Day, 2018: Aline Cofield; Kenneth Dean; Bill Jones; Jane Lamkin; and Larry Prince, Sr. As we call each out loud, a bell will be rung, and Senior Pastor James Lamkin will offer a brief reflection. These are indeed hallowed days.
I grew up in a tradition which had no analogue to All Saints. Perhaps the closest was Decoration Day at the cemetery in Leoma, Tennessee. Many of you participate in this very meaningful day, with its annual visitation to a loved one's grave to clean and decorate, to pray and to remember. Such observances happen privately outside the space of our communal worship. And so, it has been special to me to have space during a worship service to formally remember our saints. In addition to those dear ones named above, we can call aloud others who have died.
The proximity of this day of memory to Halloween is not accidental, although time and culture has erased the theological profundity of the day—at least in our secular imagination.
Like most sacred days, Halloween has been subjected to a dizzying array of secular recensions. What began in the 8th century as a day to celebrate saints and known, appropriately, as All Saints Day, would eventually morph into Halloween some centuries later. November 1 is the actual liturgical day for the celebration of saints, alive and deceased.
Halloween, a contraction of the words eve (as in night before) and hallow (as in holy, set apart, saintly), now bears scant resemblance to the Christian day of All Saints Day. It is a liminal time, nonetheless, even if it has been thoroughly desacralized. The world of the deceased and the world of the living are thought—imaginatively—to come perilously close to one another.
It was perhaps not without some irony that Luther chose All Hallows Eve as the date on which he tacked his 95 theses on the castle church in Wittenberg. Ironic because one of the fruits of the Reformation—at least the fruit which would lead to Baptists—was a thoroughgoing opposition to all feast days, days of special observance, and the entire theological superstructure which accompanied All Saints.
Protestantism, in its most anti-Catholic iterations, tended to shy away from the very notion of liminal space between the living and the dead. That whole vast panoply of intermediary spirits, powers, principalities, saints, the blessed Virgin Mary et al. came to be subsumed under the notion of the individual walking and talking with Jesus…alone.
In our tradition, we have found great meaning and depth in recovering such liminal space. Perhaps we would be aided in our remembrance of the saints by dwelling for a moment on who or what a saint is.
In our popular rendering, a saint in a rare person indeed. One who by her conduct is beyond reproach. One who appears to be closer to God than others. Or so it might be thought by our colloquial use of the term. She's a saint, we would say of my maternal grandmother who never had a known outburst of anger or inappropriate conduct. Her irenic nature was a constant.
The New Testament conceives of a saint in less hierarchical, and more approachable ways. For Paul, the saints are ubiquitous and omnipresent in those congregations to which he wrote letters. Addressing the church at Corinth, he addressed the congregation as those "called to be saints" (1 Cor. 1:2). Likewise, in Ephesians he begins with To the saints who are in Ephesus and are faithful in Christ Jesus (Ephesians 1:1). Paul thought of himself as "the very least of all the saints" (Ephesians 3:8) but notably…still a saint. The New Testament ends with these words: The grace of the Lord Jesus be with all the saints. Amen. (Rev. 22:21).
There were apparently lots of saints in New Testament times. Fortunately, we don't apply a test. There is no process of canonization. We need not expand on the assumptions of the New Testament that all who have accepted the call into new life by Jesus Christ were saints. We are all, each of us, sanctified "in the name of the Lord Jesus Christ and in the Spirit of our God" (1 Cor. 6:11). Sanctified, after all, shares a common theological "etymology" with saint.
The act of naming aloud those who have died during a worship service is a powerful antidote to the banality of Halloween. In such naming and in our living memories, we remember the lives of those we loved and lived with, wept and rejoiced with, worshipped alongside of, and yes, buried. By naming those who have died as saints we place them in that great narrative of God's powerful redemptive story. For we know that death will not have the final word. God will.