Listening to Jesus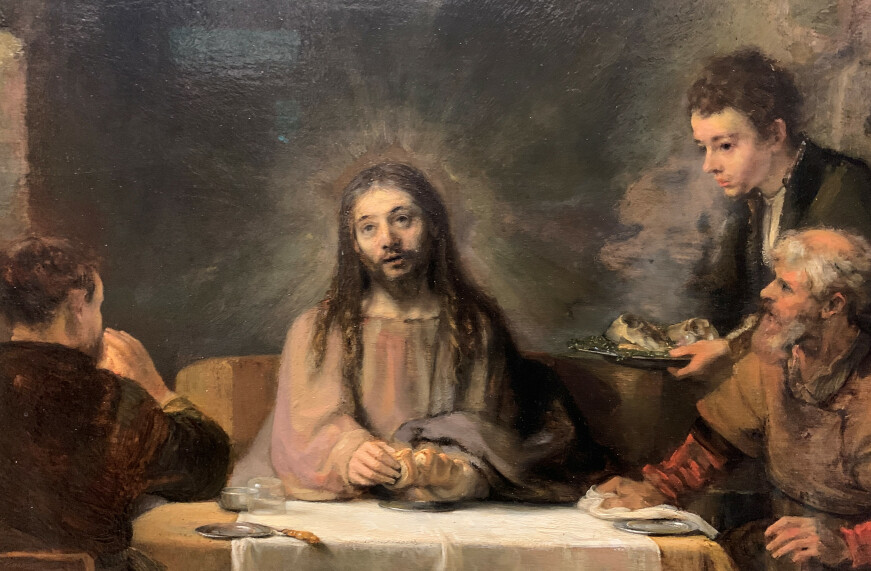 Six days later, Jesus took with him Peter and James and his brother John and led them up a high mountain, by themselves. 2 And he was transfigured before them, and his face shone like the sun, and his clothes became dazzling white. 3 Suddenly there appeared to them Moses and Elijah, talking with him. 4 Then Peter said to Jesus, "Lord, it is good for us to be here; if you wish, I will make three dwellings here, one for you, one for Moses, and one for Elijah." 5 While he was still speaking, suddenly a bright cloud overshadowed them, and from the cloud a voice said, "This is my Son, the Beloved; with him I am well pleased; listen to him!" 6 When the disciples heard this, they fell to the ground and were overcome by fear. 7 But Jesus came and touched them, saying, "Get up and do not be afraid." 8 And when they looked up, they saw no one except Jesus himself alone. (Matthew 17:1-8, NRSV)
The Sunday before Lent begins is Transfiguration Sunday. With more than a casual allusion to the story of Moses' encounter with God, Matthew emphasizes Jesus' glowing face and his "dazzling" clothes. I've read the passage many times, but this time around my eyes lingered on the words God says to Jesus from the cloud. This is my Son, the Beloved is a lovely call back to Jesus' baptism in chapter 3:17 when God said the same words...with one addition I'll treat in a moment. In the baptism passage, Jesus' ministry begins with a powerful word of affirmation from God, both authorizing and blessing Jesus' kingdom mission in the world.
But the Transfiguration account in chapter 17 adds these intriguing words after the familiar words of beloved. God says this: "listen to him." In the Greek it is ἀκούω from which we derive our English word "acoustic" and its cognates. It can mean both to hear and to listen, in the same way we might say during a conversation "do you hear me?" when we actually mean "are you listening?" or "did you understand what I'm saying?"
Jesus will use that same word at the conclusion of the Sermon on the Mount when he says:
"Everyone then who hears these words of mine and acts on them will be like a wise man who built his house on rock." (Matthew 7:24).
Jesus blesses his followers who, unlike those who have their ears stopped up, are in a spiritual place where they can actually hear and listen to what Jesus is saying.
But blessed are your eyes, for they see, and your ears, for they hear. (Matthew 13:16)
One of the recurring themes of the Gospel is Jesus' prophetic interpretation of Isaiah 6:9-10 in which the prophet castigates Israel for not listening. In an imaginative play, God will respond by stopping up their ears. They would be unable to hear even if they wanted to. Jesus teaches that just as in Isaiah's day, there are people whose ears are stopped up from hearing God's truth. Our age is no different.
We shouldn't overread that, in my view, as a perpetual prophecy that God is deliberately preventing us from hearing the truth. Rather, it is an apt description of the human propensity to be unable to hear the radical words of God when they are said in our presence.
One can hear words with perfect clarity that summon us to action. An audiologist performing a contemporary exam would conclude that there were no obstructions or pathologies in the ears; we can hear just fine. And yet, we can be paralyzed into inaction by our foolishness or stubborness. Sin has a way of provoking inaction as much as it does wrong action. We can sin by omission as much as we can by commission.
A sin of omission would be where we have heard Jesus' command in our life and simply fail to respond. But of course we cannot even respond unless we first know what Jesus is saying. Lots of people talk about Jesus, but seem to have no familiarity with what Jesus actually taught and commanded.
When God said "listen to him," do you think God meant simply "process these words of my Son in your ears, but don't do a single thing about them"? No, of course not. To hear in the Gospel is always to obey. If you show no signs of obedience, one can reasonably ask about you "well, did you really hear what Jesus said?"
There are a thousand ways to obfuscate--to not hear. We can relativize the text's claim on our life. God was just talking to Peter, James, and John, not to me. We can reduce the radical ethics of Jesus' teachings to an interim ethic. Jesus thought the world was ending, but since it didn't end, those rules no longer apply. We can willfully ignore Jesus' teachings by focusing only on the meaning of his death and resurrection. All that matters is that I'm saved by the blood of Jesus, so I don't need to concern myself with his commands. (Bonhoeffer called that last obfuscation "cheap grace").
On the cusp of Lent, we are called to a life of radical obedience. We are called to listen to what Jesus is saying to us. We are called to reflect and to comprehend what his words mean to us, today. We are called to obey them in our particular context.
Jesus is not a podcast or an interesting audio-book. Jesus is the incarnate Son of God. May we listen to what he has to say, and in our deep listening, may obedience come. Amen.
(The painting shown above is a photograph taken by the author in the Musee du Louvre of Rembrandt's "Supper at Emmaus").