Rejoice Always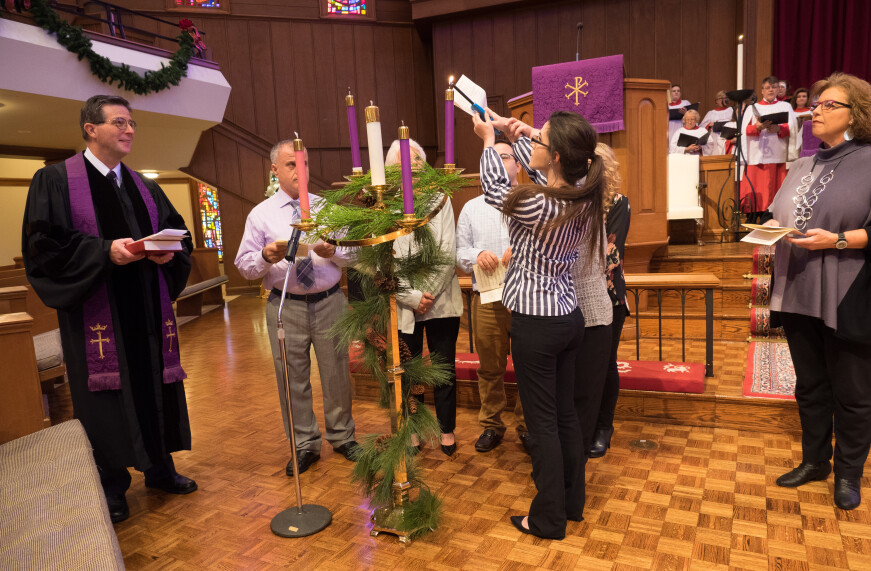 As we approach the third week of Advent, we light the candle of joy. Each week, we do something counter-cultural and from the perspective of those outside the church, perhaps absurd. We light candles week by week. One for hope, one for peace, next week for joy, then for love...and then the center candle: the Christ candle. Hope, peace, joy, love...these are increasingly in rare supply.
At our house we watched the Muppets' version of Dickens' Christmas Carol this past weekend and had a lot of good laughs. There is a deep seriousness to Dickens' tale, namely that the cynicism and greed which tighten their grip on our hearts can eclipse the meaning of Christmas. Christ is not exactly center stage, but human avarice and ill-motive are in steady supply. As Ebenezer Scrooge is shown the smallness of his vision through his past and present, he sees how his obsession with money and self has done damage to his neighbor, his community, and his own self.
He had forgotten how to hope and to rejoice. He had no peace or love in his heart. The years of counting money had left no time for counting his blessings.
Paul in his first letter to the Thessalonians writes Rejoice always...for this is the will of God in Christ Jesus for you. (1 Thess. 5:16-18). This is a tall order, doing God's will. We are used to turning on the news and seeing that a terrorist has claimed that it was God's will to blow up a mosque or a church or a synagogue. But the God who became flesh in Jesus Christ apparently wills us to rejoice always.
Cast a glance back at 2017 before it fades into oblivion. There were plenty of moments that brought tears to our eyes. There were 406 mass shootings so far in America. A record number of hurricanes wreaked billions of dollars in property damage and resulted in the death of many human beings. The Syrian civil war, which has displaced over 5 million Syrians and killed over 220,000 people continued to rage. The Rohingya people of Myanmar--Muslims in a Buddhist majority country--are facing genocide. The pain wrought by sexual abuse and harassment was made vividly real by the "silence breakers," those brave women who told the stories of their abuse and broke their silence, often facing threats of civil litigation and outright denials from their abusers.
You can add several things to this list of woes. Our increasing global awareness brings the plight of human sorrow to our doorsteps and smartphone screens. So what do we have to rejoice in? Paul, despite his multiple incarcerations, shipwrecks, beatings and travails always rejoiced in the work that God was doing in the ekklesia, the body of believers we call the Church. He told the church at Philippi "I thank my God every time I remember you." To the church at Corinth he wrote, "Finally, brothers, rejoice. Aim for restoration, comfort one another, agree with one another, live in peace; and the God of love and peace will be with you." He always found a way to rejoice in other people.
The local ekklesia is just one of the places where we can rejoice in what God has done, what God is doing, and what God will do. We rejoice, too, when we meet the stranger. Outside the walls of the ekklesia, after the hymns have faded, the scents of Advent candles dissipated, we meet the stranger. As Rabbi Jonathan Sacks has taught me in his marvelous book The Dignity of Difference, the "Hebrew Bible in one verse commands, 'You shall love your neighbor as yourself', but in no fewer than 36 places commands us to 'love the stranger'" (p. 58). Let us rejoice in the church, and let us rejoice in the love God gives us which overflows to the stranger.
Lately as we pray with the children at bedtime, I ask them for whom shall we pray? As of late, the prayer is for "the refugees." Mary and Joseph and little baby Jesus were once refugees, once strangers. They had much of which they could have been fearful. But one day Mary burst out into song "My soul magnifies the Lord, and my spirit rejoices in God my Savior" (Luke 1:46-47). There is much in which we can rejoice. There is One who invites us to rejoice always. May we hear the words of Scripture this Advent first as permission, then as command, to rejoice always. For this is the will of God in Christ Jesus for you.