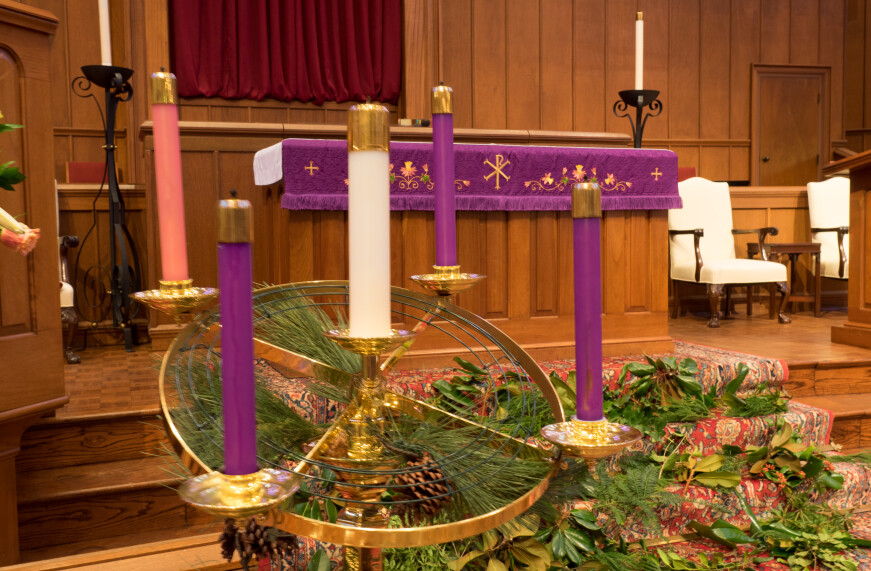 The Advent Lectionary texts might strike you as a bit odd, at first glance. The first Sunday of Advent's Gospel reading from Mark, the so-called Little Apocalypse, speaks of the sun being "darkened, and the moon" failing to give its light. Stars will fall, and then the Son of Man will come in the clouds. This is a far cry from the little Playmobil nativity scene our kids had for a few years.
For a long time--too long--I thought Advent was just about Christmas and the coming of the Christ child. The texts and the theological focus of the four Sundays preceding Christmas actually focus on the coming of Christ in various ways. Philip H. Pfatteicher writes in Journey into the Heart of God: Living the Liturgical Year that "Since at least the time of Bernard of Clairvaux (d. 1153),Christians have spoken of the three comings of Christ: in the flesh in Bethlehem, in our hearts daily, and in glory at the end of time." This expansive view of Christ's coming explains the seemingly strange focus on John the Baptist during Advent II and III. We must expand our vision from the babe in swaddling clothes to the wild eyed John who was "clothed with camel's hair, with a leather belt around his waist, and [who] ate locusts and wild honey." (Mark 1:6) Both images foretell a divine coming in different ways; both require our response.
Advent is a clarion call to God's people to rise from their slumber. "Beware, keep alert" Mark tells us at the end of the Little Apocalypse. Our culture and our technology have a way of lulling us into spiritual sleep. We lose the sharp edge of daily reflection, prayer, and contemplation. We lose the passion and desire for social justice. We retreat into cynicism.
The Christ child was born some 2,000 years ago, which we liturgically re-enact every year during Advent in various ways: Christmas kids' pageants, Christmas carols, readings from the infancy narratives of Matthew and Luke. The dramatic renewal of salvation memory lifts our spirits every year. But we should not lose the triple focus of Advent which Bernard of Clairvaux helps us see. Christ the infant has already come, and Christ will come again in glory. But Bernard's vision of Christ's coming which happens in the present is one to which our lethargy encourages us to ignore. That present tense arrival is named by Christ's arrival "in our hearts daily." In a sermon from the 11th century, Bernard writes of this poetic "second coming" in this way:
Keep God's word in this way. Let it enter into your very being, let it take possession of your desires and your whole way of life. Feed on goodness, and your soul will delight in its richness. Remember to eat your bread, or your heart will wither away. Fill your soul with richness and strength. (Click here for the source)
Let that be our Advent benediction.