Melinda Clark, Interim Organist
"One of God's greatest gifts to His people on earth is the Gift of Music."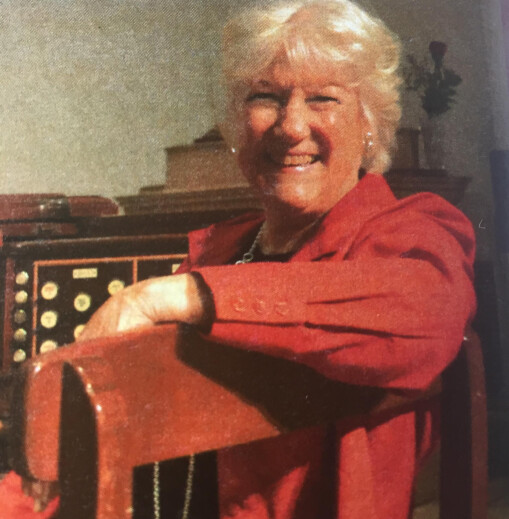 Melinda Clark - Organist, Director, Pianist, Teacher, Orchestral Conductor, and Composer – is a professional musician who rejoices in combining Music and People in a participatory manner. Whether it be praising God through the spontaneous singing of hymns by a congregation in a worship service or hearing a concert of sacred or secular music or listening to and humming along with familiar themes from Broadway favorites, Melinda loves putting music and people together in a participatory way to see the spontaneous joy that comes to those who listen, learn, and do.
Melinda grew up in Augusta, GA, where she was privileged to work as Organist at a young age in several denominations of churches. Melinda received a BA Degree from the University of Georgia, majoring in Music - Organ and Piano. While a student there, she received much experience in accompanying and conducting. After graduation, her most notable continuing education opportunities were two Summer Sessions:
* Study of Choral Conducting with Dr. Joseph Flummerfelt at Westminster Choir College in Princeton, NJ
* Study of Orchestral Conducting with Maestro Gunther Schuller at the Festival at Sandpoint in Sandpoint, ID
Melinda spent two years living in Washington, D.C. where she worked as Organist for an Episcopal Church. She sang two seasons with the (National) Cathedral Choral Society. During her time in Washington, she was able to take advantage of volunteer opportunities there: Working as a docent taking school children to tour the National Gallery of Art, and taking Foreign Visitors on tours of Capitol Hill-the U.S. Capitol, the Library of Congress, and the Supreme Court.
Melinda has served as Director of Music & The Arts and Organist or Organist for churches in Atlanta, Augusta, Athens, Georgia, and Washington, D.C. (with additional work in Charleston, SC). Most recently in Atlanta, Melinda served as Organist and Director of Music at North Avenue Presbyterian Church for an 18-year-tenure and at St. Luke's Episcopal Church for a 16-year-tenure).
As a teacher, Melinda has served as a Piano, Organ, and Singing Instructor for children and adults of all ages. As a conductor, Melinda has directed Adult, Children, and Handbell Choirs, Instrumentalist Ensembles and Orchestras. She formed earlier a small resident Orchestra Ensemble to play solo works and to accompany singers and congregations during Worship Services and for Concerts.
Invited to participate in the Piccolo Spoleto Festival (in Charleston, SC) during two different Seasons, Melinda arranged and conducted Adult and Handbell Choirs with Organ and a Brass Ensemble, to perform sacred music concerts held at various historic churches in Charleston.
Melinda is a composer/arranger of sacred and secular works, including anthems for choirs, solo organ works, original works and arrangements for choirs and instrumentalists. She was commissioned by the GMTA (Georgia Music Teachers Association) to compose an original work for Duo-Organists, premiered by Elizabeth and Raymond Chenault. By a Methodist church, Melinda was commissioned in 1995 to write "The Holy Spirit Comes," a short dramatic work to celebrate the first Pentecost. It is scored for multiple-aged choirs, organ, instruments, and narrator.
Melinda has served as Musical Director and Conductor for both well-established and originally-written or arranged plays and musical reviews. Her originally-written play with music, Noah, the Musical, was produced in Atlanta on three different occasions since 2004.
Community Outreach/Activities include taking music, offered by a Handbell Choir, Children's Choirs, Men's Chorus, Women's Chorus, and/or Mixed Chorus to sing out in the Community, at Tours of Homes, at Festivals, as a Flash Mob, out on the street, to Hospitals, and Living Facilities.
A recording artist, Melinda released in 1998 a CD recording entitled Serenity: A Collection of Favorite Hymns.
Melinda does business as (DBA) "Keys for Occasions - Music of the Theatre and Songs" as she plans Piano Music for Special Events, Parties, Receptions, Weddings, Rehearsal Dinners.
On a Personal Note:
I am honored to be appointed Interim Organist at Northside Drive Baptist Church where I am thoroughly enjoying working with Keith Walker, Director of Music Ministries, the excellent Sanctuary Choir, genuine Pastors James Lamkin and Daniel Headrick, the wonderful Staff, and the special Congregation. I am especially grateful to Jeff McConnaughey for introducing me to NDBC.
* Melinda Clark