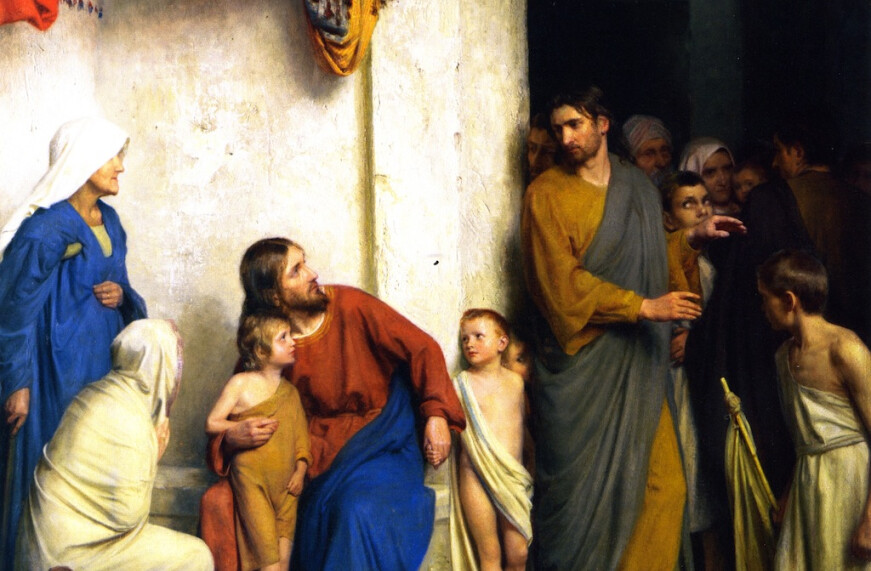 The Bible passage I'd like to explore can be summed up like this: Jesus reacts to the disciples' narcissism by welcoming a child in their midst. Now, what can this mean?
My passage is drawn from last Sunday's lectionary reading, Mark 9:30-37. In the passage, Jesus tells the disciples yet again that he will die. They were incredulous the first time (Mark 8:31-33), and the second time they seem to ignore him.
After leaving a child exorcism that left the 12 disciples frustrated at their lack of success, they are feeling threatened. Their power has seemed to ebb. What they thought was an inexhaustible supply of miracles had run dry. This kind only comes out with prayer, Jesus explains to the disciples when they ask why they could not cast out the spirit.
But rather than retreat to their quiet place to pray, they gather together to argue. That should resonate with us in this cultural moment. Their argument is about who is the greatest. And it prompts this exchange in the Gospel of Mark.
Then they came to Capernaum; and when he was in the house he asked them, "What were you arguing about on the way?" But they were silent, for on the way they had argued with one another who was the greatest. He sat down, called the twelve, and said to them, "Whoever wants to be first must be last of all and servant of all." Then he took a little child and put it among them; and taking it in his arms, he said to them, "Whoever welcomes one such child in my name welcomes me, and whoever welcomes me welcomes not me but the one who sent me."
It has long puzzled me why Jesus reacted in this way to their bickering. But upon closer examination, I believe it is because Jesus had to display for them a tangible example of how those who are last in the society show us something powerful about God. Or put more exactly, when we welcome the least powerful, we welcome God.
I preached about that a week ago. You can watch it here.
One of the main reasons it is a puzzling text is we don't "get" the child reference like the disciples would have. Children were not elevated in first century culture. They did not have legal rights and were not exactly held up as paragons of wisdom. Think about all the laws governing children, their care and protection, enhanced penalties for crimes against children, and the like. Think about the vast amounts of books and media culture which focus our cultural and parental anxieties on children, their rearing, progress, and education. We are a child-focused culture.
Read one way, the Bible is child focused, almost with a laser like lens at least in the first few chapters of Genesis. Having children, fertility problems, God's promises relating to them...all loom large. But they are not viewed the same way in the Bible as they are in our culture.
A child could be a slave in ancient Roman society. And in fact, there were thousands of child slaves.
So, one possibility for the preacher--the one I took in preaching--is to see Jesus as elevating the lowly. To the extent that children were viewed as without any special dignity or power, then his welcoming of a child is a way of turning the disciples' pretensions to power upside down. I believe this interpretation is buttressed by other passages where Jesus gives a special status to children. A prominent example that will happen in the very next chapter is Mark 10:13-16, where the disciples again showing their stubbornness in learning, try to prevent children from seeing Jesus. Let the little children come to me...he tells them. Weren't they listening? Apparently not...and apparently we aren't either.
While they were busy arguing about who was the greatest, Jesus had just finished casting out a spirit from a child (Mark 9:14-29). While they were busy denying that they had been pathologically obsessing about their own greatness, Jesus embraced a child.
We might ask, who are the especially marginalized and oppressed people in our society? And we might ask, once we begin truth telling about that, what are we doing to welcome them?
I think of the 12,800 children separated from their families in U.S. detention facilities as the New York Times recently reported. I think of LGBTQ persons who are routinely shut out of churches, membership and baptism and communion denied. I think of homeless persons suffering from a lack of shelter, mental health care, and substance abuse facilities. I think of, I think of...now you think of a child of God and fill in the blanks. Who are you thinking of now? Go and welcome that person.
For, as Jesus tells us, to welcome such a child in Jesus' name is to welcome Jesus...and therefore to welcome God.
Image attribution:
Carl Bloch [Public domain], via Wikimedia Commons
https://commons.wikimedia.org/wiki/File:Let_the_Little_Children_Come_unto_Jesus.jpg