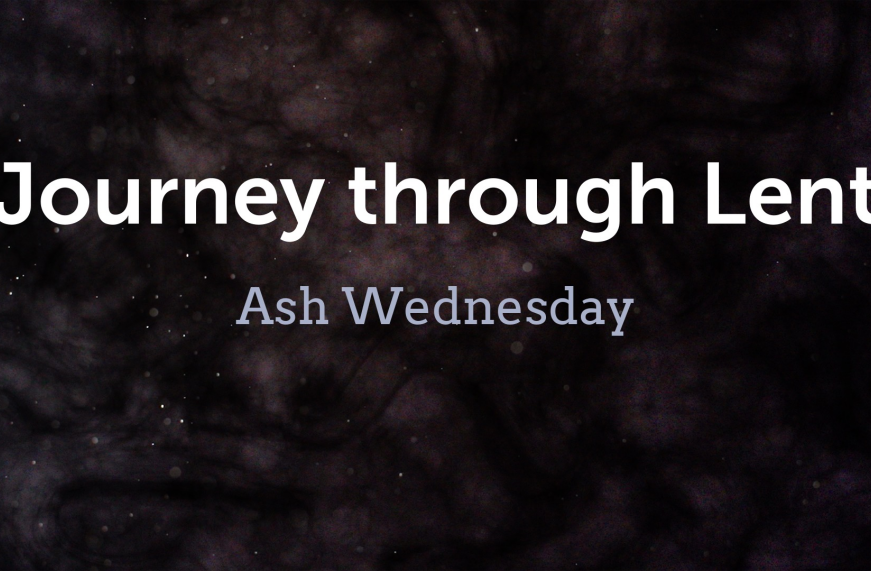 For many who grew up Protestant, the rhythms and traditions of Lent may seem quite remote. That was my experience for years. My very first Ash Wednesday service was soon after I returned to Christian faith when I attended First Baptist Church, Knoxville. I was so moved by the solemnity and redeeming power of the words and practices in that service.
Over the years, I have found Lent to be one of the most profound spiritual journeys of the Christian year.
To the lasting detriment of Protestant spirituality, a long history of reflexive anti-Catholicism infected American forms of Protestantism in the United States. Thankfully, we seem to be climbing out of our self-imposed exile from ecumenical traditions and historic faith.
Knowing that many may still hear the traditions and special days of Lent as a foreign language, I'll be writing a series of articles about the major movements of Lent as a primer and way of introduction. It is as much for me as it is for you. In this article, I'll introduce Lent and Ash Wednesday.
Let's begin with the word "Lent." Lent is a weird word, don't you think? Say it a few times slowly. Your brain may have already connected it to the English word "lengthen" for good etymological reason.
Lent comes from an Old English word meaning "lengthen," perhaps pointing to the longer hours of daylight in the spring. In Protestant tradition, Lent begins on Ash Wednesday and ends on the night of Holy Saturday. We say that Lent lasts for forty days, but technically it lasts for 46 days if you count the Sundays between Ash Wednesday and Easter. So…don't count those Sundays.
What is Lent leading to? Easter, of course! By the fourth century, Christians had lengthened the period of preparation for Easter from just a few days to 40 days. It was aimed at preparing catechumens for baptism into the Church on Easter morning. A catechumen is a convert to Christian faith who is awaiting instruction leading to baptism.
The Church has retreated over the years from the baptismal focus of Lent towards an inner spiritual preparation for Easter and a period of intense self-examination. For forty days, we are invited to practice spiritual disciplines of fasting, prayer, and self-examination as a way to prepare for the glory and power of Easter.
For Baptists who believe you can't do anything unless it's in the Bible somewhere: fear not! Lent is suffused with biblical tradition and allusions. Just as Jesus fasted in the wilderness for 40 days, undergoing temptation by Satan (Matthew 4:1-11), the period of Lent invites us to our own period of prayer, fasting, and self-examination. The traditions of Holy Week follow the path Jesus took to the Cross and each of the major movements in Holy Week have strong biblical connections. (More on those in subsequent articles).
Ash Wednesday. Lent begins on Ash Wednesday, a day which was solidified in church observance for all Christians by the 11th century, although the practice of tracing the sign of the cross on a penitent's forehead long preceded this time.
If you attend an Ash Wednesday service, the most common observance includes the reading of lectionary texts. In the case of Ash Wednesday, these biblical texts do not vary from year to year. Those would include selections from the Old Testament book of Joel and the New Testament's Gospel of Matthew, both of which emphasize repentance. More than an echo of Joel's rend your heart and not your clothing can be heard in Jesus' admonition to avoid spiritual practices done for public consumption. (Compare Joel 2:13 to Matthew 6:1-6).
And, of course, it wouldn't be Ash Wednesday without ashes. Some congregations burn the palm branches from Palm Sunday (always the Sunday before Easter) and use those ashes to draw the sign of the cross on the foreheads of congregants, saying From dust you came and to dust you shall return. This is what God says to Adam after the humans' transgression in the Garden in Genesis 3:19.
The symbolism of ashes is multi-layered and profound. Ashes symbolize both our birth and our death. Just as the first human was formed from the dirt of the ground in Genesis 2:7, we are all connected to Adam and Eve by our human lineage and our common Creator. And when we die we are placed in the dirt through burial or cremated into…well…ashes.
As we receive the ashes on our foreheads, so too in many traditions does the sign of the cross get traced on the head of the casket during graveside services. The ashes are cruciform because our mortality is contained in the symbolism of the Cross.
In some churches, congregants are encouraged to write their sins on a piece of paper, which are then placed in a vessel and burned. In a congregation I pastored in rural Texas, we threw our sins into a large barrel which had a controlled fire. There is a tangible power to seeing the record of those sins go up in flames.
If you have never observed Lenten forms of spiritual discipline before, I encourage you to explore it this year. Go to a church which holds an Ash Wednesday service and accept God's invitation to deeper relationship. Sit in silence with ashes on your forehead and simply enjoy the presence of the living God.
Think about a recent decision you made in which you were self-centered and ignored God's will for your life. Tell God about that and reflect on what that was about for you. May the ashes cleanse and purify and heal. Amen.
Resources consulted for this article include:
Philip H. Pfatteicher's Journey into the Heart of God: Living the Liturgical Year.