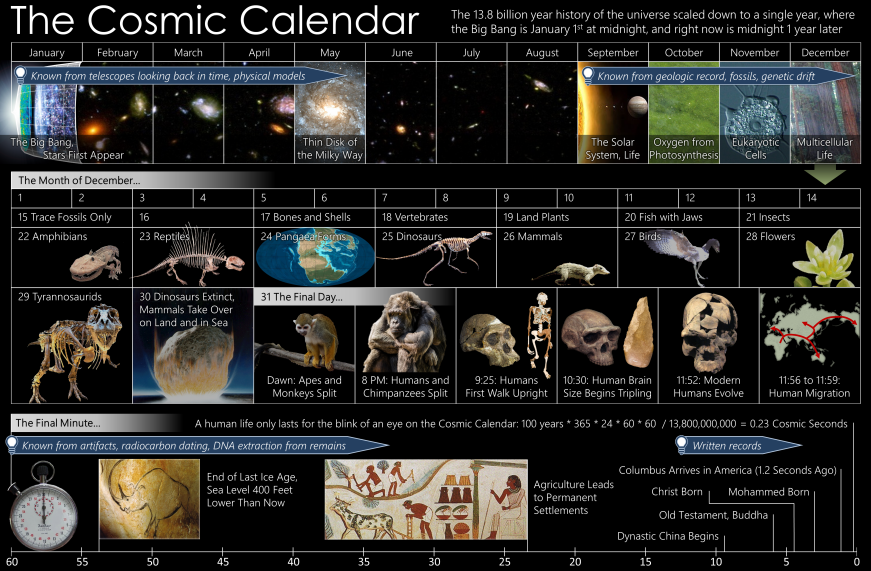 Love never ends.
Every time I reflect on the scope and scale of cosmic history I feel a little bit of cynicism and perhaps despair creeping in. We humans are late additions to the history of the cosmos, and every day it seems we're learning about distant galaxies, complete with a new panoply of stars. There are trillions and trillions of stars, perhaps each with a planet in orbit.
It is easy to feel quite small in the grasp of such "bigness."
Many of us labor under the conceit that our impact on the world will outlive us. Perhaps it is our ego that drives such imagination. When you think about human history on a cosmic scale, the work we do may seem infinitesimal. We touch a life with the best we have to offer, and then time fades away.
We are suffused with an ocean of words, stimuli, and impressions which threaten to overwhelm.
I enjoy looking at this thing called the Cosmic Calendar online. There are different versions of this online, but they all trend in the same direction. Namely, that all of human history happened just a few seconds ago. 13.8 billion years ago is as far back as scientists can trace the material world.
The Cosmic Calendar imagines that entire 13.8 billion year period as one 365 day calendar. Put in those terms, on the final month of the "Cosmic Year"…during the final day... humans first started walking upright around 9:25pm. The whimsical nature of this imaginative exercise makes me smile.
Christ was born a little less than 5 seconds ago.
Columbus came to America 1.2 seconds ago.
And so on.
I suppose a cynical read of the Cosmic Calendar would indeed affirm that our human lives don't amount to much.
Long after we've been forgotten, when American civilization and its landmarks and eccentricities and cultural artifacts are buried in debris, when every trace of our modern culture has been erased, when the Sun dies and vaporizes the Earth billions of years from now, will there be anything left?
Oh yes, the Bible tells us. Love never ends.
Paul says that love never ends in 1 Corinthians 13:8. In the midst of this hymn of praise to love, we could very well substitute "God" or "Christ" for "love."
Because, as 1 John 4:8 tells us, God is love. Therefore, love that will outlast every violent act and outburst of hatred and oppression.
God is the source and ground of love. From such an infinite well, love can never be depleted. When people say things like "life is too short to hate" they are on to something powerful. Why would we humans waste time with something so ephemeral and destructive as hatred? And yet, hatred seems to be on the rise.
Acts of Anti-Semitism have increased dramatically in the last years. White supremacy is on the rise. Political divisions seem increasingly sharp and polarized. Hatred seems to have the upper hand.
And yet, hear again these words: love never ends.
Love never ends because God never ends. Love never ends because God's solidarity with humanity was made before the "Big Bang" or whatever you want to call it. Love never ends because Jesus died on the Cross for you and for me and for every human being. The eternal invaded the temporal.
And so I do believe that the antidote to our feeling of smallness, despair, and cynicism when we gaze into the night sky is a healthy dose of wonder that after all that has faded away, love remains.
After all the stars have died, love never ends.
The life we live today does matter. The lives we touch today do matter. Because when our thoughts and actions are motivated by love we come to know the eternal God, and God comes to know us. Take that, Cosmic Calendar!
(Attribution of the image used above to By Efbrazil, CC BY-SA 3.0, https://commons.wikimedia.org/w/index.php?curid=18385338)