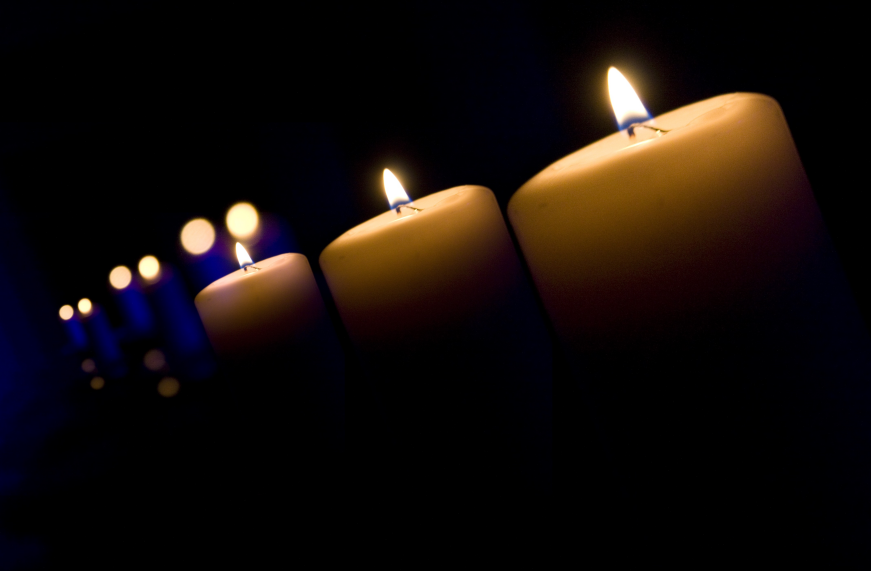 As I meet more and more people in life, and have my own life experiences, I'm conscious that the holiday season may bring its own season of grief for those who mourn. There are some dear ones who used to gather around the table who will gather no more. So, our joy may sometimes seem overshadowed by pain.
In many Christian churches, the names of those who have died in the preceding year, along with those on our heart, are said aloud on All Saint's Day. We should be conscious that one day, even a few seconds within that day, is inadequate to the process of grief and healing. Grief is like a journey, and we wonder when it will end.
My Jewish friends tell me of the Mourner's Kaddish and the traditions accompanying the yahrzeit (or death anniversary). We have much to learn from our Jewish brothers and sisters . For many Christians, the rituals accompanying mourning have become more isolated, less communal, and well…lonely.
While the rest of the world seemingly moves on, some might be caught up anew in fresh grief in this season of family togetherness and faith traditions. Will anyone remember the profound loss we've experienced? Does anyone care? Is there something wrong with me for holding onto this pain which I play over and over again in my mind like a tape? If you have asked something like this before, then you know the raw edge of grief. The years might dull it slightly, but it can come back sharp as a knife at a moment's notice.
Advent is about a lot of things, but one thing it's about is waiting. Waiting for God to show up. We are told to wait in this Advent season...to wait for something that has already occurred: the birth of Jesus. We are told to wait in this season...to wait for something which has not occurred yet: the coming again of God. Waiting is hard. We need some good news to help us with all this waiting.
The good news is that the wait is over for the coming of God into this present moment. God is already here. God has always been here. God will always be here. We need only pause today, take a deep breath, and welcome God's presence. Do that now.
Comforted by God's presence, filled with the Holy Spirit, may God encircle you with love and comfort and peace, wiping away every tear. And may this be a prayer to those who need it.
Jesus' last words in the Gospel of Matthew, after commissioning his disciples to teach and baptize, were these: "And remember, I am with you always, to the end of the age." Let that be our benediction. Amen.