The First Gospel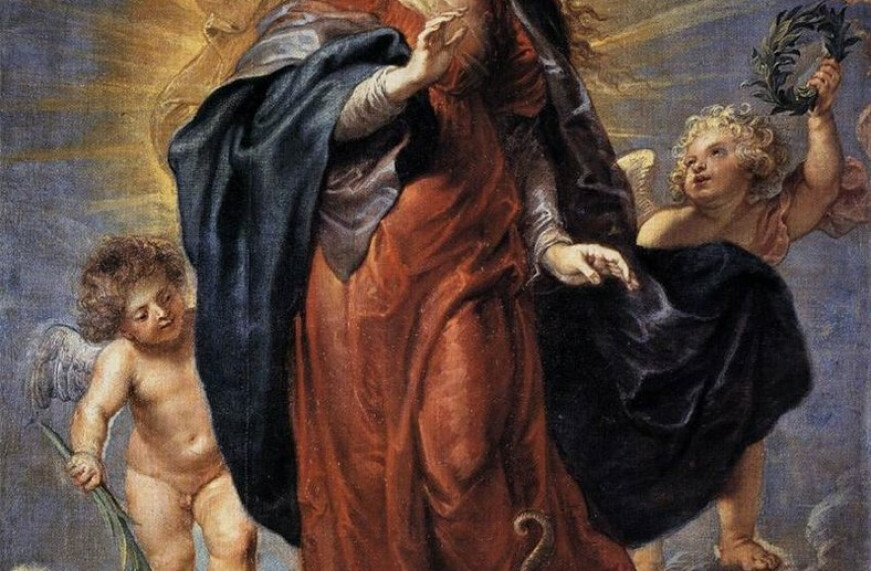 In studying the Genesis passage from the alternate Lectionary reading with our Wednesday morning Bible study group via Zoom (join us sometime!), I came across this fascinating little diversion: the notion of the protoevangelium, or the "First Gospel." Early Christian readers of Genesis 3:15 seized upon the symbolism and connections to Christ's cosmic victory over the powers of darkness and termed this verse the first Gospel.
Freshly ashamed and aware of their naked bodies, Adam and Eve are pursued by God in the Garden of Eden. Adam blames Eve, Eve blames the serpent, and then God curses the serpent in verse 15: "I will put enmity between you and the woman, and between your offspring and hers; he will strike your head, and you will strike his heel."
Some early Church fathers read this and said
aha
!
the serpent is the Devil, the woman is the Virgin Mary, and the 'he' who will strike the serpent's head is Christ
. You can find that line of thinking in Bishop Irenaeus of Lyon
Against Heresies
, Book IV, Chapter 40:
And the Lord summed up in Himself this enmity, when He was made man from a woman, and trod upon his [the serpent's] head, as I have pointed out in the preceding book.
There is a fascinating tradition in Western Christian art of depicting the Virgin Mary trampling the head of a serpent which encapsulates this theology. Artists like Ruben, Tieopolo, and Caravaggio all treated the theme in different ways. The painting by Rubens entitled Immaculate Conception is below.
By Peter Paul Rubens - Web Gallery of Art: Image Info about artwork, Public Domain, https://commons.wikimedia.org/w/index.php?curid=15417509